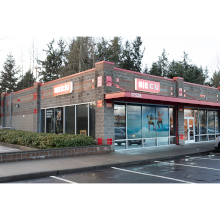 Offers Military Discounts
We proudly support those who put their lives on the line for our country. Over 85 years ago, BECU began as a local, not-for-profit financial co-op putting members first. Today, with over a million members, there's also a million reasons to join. See how BECU returns profits to members in the form of fewer fees, better rates and free financial education and join* today. Insured by NCUA. Member Share Savings required to establish membership. Not everybody will qualify.
M-F 9am-6pm, Sat 9am-1pm
8002332328
Get Directions
Visit Website
Write a Review
Reviews
December 22nd, 2021
We had a car loan with BECU for roughly 3 years, we hd never been into one of the locations. When we were ready to pay off our car loan we went to this particular BECU and from the moment we walked in someone greeted us. Things were alittle different due to covid regulations but our wait was not very long. Someone attended to us and helped us with process of paying off our car loan. We will definitely be back for another loan in the near future.